Our company is one of the professional non woven tote bag suppliers with high quality. In China, it has received unanimous welcome and favorable comments from customers. At present, We have many non woven tote bags for sale.
In this era of rapid industrial development, environmental pollution is becoming more and more serious. Therefore, everyone advocates environmental protection and energy conservation. Since 2010, the state has prohibited shopping malls from providing free plastic bags, and non-woven environmental protection handbags have become essential items for people to go shopping.
Non-woven handbags are handbags made of non-woven fabrics and are green products. It is tough and durable, beautiful in appearance, good in air permeability, reusable, washable, silk-screen advertising, shipping marks, and long in service life. It is suitable for any company and any industry to use as advertising, gifts, and outer packaging.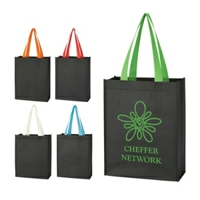 Non Woven Mini Tote Bag
Handbags made of non woven tote bag have the following advantages: light weight: non-woven fabrics use polypropylene resin as the main production raw material, with a specific gravity of only 0.9 and only three-fifths of that of cotton. They are fluffy and feel good. But also soft and comfortable. Non woven tote bag is a kind of green product, tough and durable, beautiful in shape, good in air permeability, reusable and washable, silk-screen advertisement, shipping mark, long in service life, cheap and fine, environment-friendly and practical, widely used, with prominent advertising positions. Non-woven fabrics have good physical properties. It is formed by directly laying polypropylene spinning net and thermally bonding. The strength of the product is better than that of common staple fiber products. The strength is non-directional and the longitudinal and transverse strength is similar. Non-woven fabrics have the characteristics of softness, air permeability and new fiber products with planar structure. The advantages of these characteristics are that they do not produce fiber crumbs, are strong, durable, silky and soft, of course, they are also a kind of reinforcing material, and also have the feeling of cotton. Compared with cotton fabrics, non-woven bags are easy to form and have low cost. Therefore, it is widely used to make various handbags. The shop has its own non woven tote grocery bag, which is primarily used as the enterprise's publicity civilization. When enterprises use their non-woven handbags, more people can see the enterprise information conveyed on the bags, which is a low-cost promotion method.