Wear a mask and wash your hands frequently. These two small things must not be taken lightly during the epidemic.
The media and experts have repeatedly stressed the importance of hand washing. Hand cleansing is very important for your own health and to stop the spread of disease.
Today I recommend to you a no water hand wash gel (also called "no-wash hand soap") that is also used in many hospitals. It contains 75% alcohol, which can effectively kill bacteria and viruses. And the use of patented antibacterial technology, the sterilization rate of Escherichia coli, Staphylococcus aureus, Candida albicans up to 99.99%.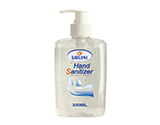 No Water Hand Wash Gel
It is a leave-on gel, which can clean hands quickly anytime, anywhere without water, soap, towels
After squeezing out the gel, rub your hands directly until your hands are dry. During the process of rubbing your hands, the gel will evaporate, leaving your hands dry and non-sticky after use.
When you first apply it to your hands, it will have a slight alcohol smell. After rubbing it for a while, it will be almost tasteless.
When going out, it is inevitable to touch some public facilities, such as elevator buttons, door handles, handrails ... but there is not necessarily running water that allows us to wash our hands.
This no-clean sterilization gel is convenient to carry and can clean hands at any time, which is very practical.
Chunlu's disinfection gel, although not very common in the market, is often seen in hospitals.
Some hospitals have its presence in halls, aisles, toilets, and wards.
No water hand wash gel supplier learned that many hospitals have used sterilization cleaning products, many of which are top three hospitals.
Taking into account that medical staff not only have high requirements for disinfection and sterilization, but also need to wash their hands frequently, washing hands more often will cause certain damage to the skin, and even accelerate the aging of the skin. This gel contains plant-based moisturizing factors and glycerin to protect the skin. After washing your hands, your hands will not feel dry.
The composition of the disinfection gel contains 75% alcohol, which further improves the sterilization efficiency. And the alcohol used is purchased by food factories, that is, edible alcohol, which greatly improves safety.
Its ingredients do not contain common bactericidal ingredients such as triclosan, chlorhexidine (chlorhexidine), isopropyl alcohol, etc. These ingredients may cause skin allergies, dryness, etc., and are more irritating to the skin. It is also because of its excellent disinfection and sterilization ability, and very good safety, so medical staff have always favored this disinfection gel.
(Note: The alcohol content of 65 ± 5% (w / w) refers to the alcohol content calculated by mass. 75 ± 5% (v / v) is the alcohol content calculated by volume.)