Cloth bags refer to all cloth bag containers. Compared with other container types, bag containers have the characteristics of light weight and foldable storage, and are widely used in various fields of social life.
Common cloth bags can be divided into nylon bags, canvas bags, linen bags, cotton bags, flannel bags, non-woven bags, etc. according to different materials. Nylon cloth bag is a bag-shaped container made of nylon as the basic material. Due to the characteristics of nylon, nylon bag has the advantages of waterproof, light and tough, can be reused and washed. Nylon cloth bags are durable and have a wide range of practical properties. Common shopping bags, rucksacks, and thermal insulation bags are nylon bags.
Non-woven wine bag is a green product, which is tough, durable, beautiful in appearance, good in air permeability, reusable, washable, silk screen advertising, long life, suitable for any company 5. Any industry is used for advertising and gifts, with a wide range of applications and strong practicability, and is favored by users.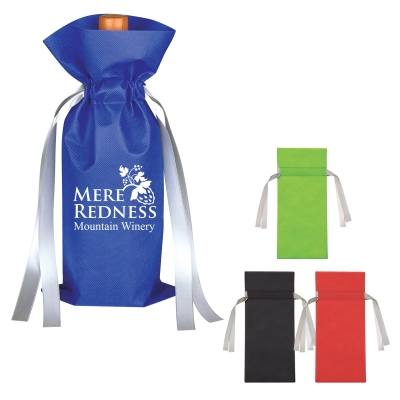 Non-Woven Wine Bagm
The flannel wine bag is a kind of environmentally friendly cloth bag, and it is also a new type of environmentally friendly product that replaces plastic shopping bags after the introduction of the national "restriction on plastics". getting bigger.
In addition, the velvet wine bag product has good practical performance. The material can withstand a variety of printing processes such as silk screen, bronzing, silver stamping, embroidery, and thermal transfer. It can print various patterns and texts on the bag surface according to the needs of the product, enriching the product content and Product appearance fits the application.
On the other hand, the wine cloth bag made of flannel is light and portable, and the material is lightweight, and the sewn bag is light in weight. The product generally adopts the rope closing method, which is flexible and convenient, small and exquisite, soft to the touch, flexible and wear-resistant, and durable.
In fact, the function and packaging effect of liquor bags made from different raw materials are different. There is no specific good or bad. Compared to silk liquor bags, custom tote burlap bags made of linen may have fewer choices in color and style. However, it can highlight the original taste of the wine cloth bag, plus the wine packaging suitable for northern or northwestern regions, highlighting the alternative rough and generous simplicity. And the use of silk cloth to make the degree of hungry liquor bag, no matter in the production process or the arrangement of lines, you must add a lot of refinement! It is widely used in many fine wine packaging in the South.